Unrivalled wheel and tyre safety
Wheely-Safe is a multi-award-winning suite of products for fleets, telematics providers and vehicle manufacturers.

It combines the world's first in-motion wheel loss detection system with advanced brake/hub temperature monitoring and an intelligent TPMS.
When fitted to any wheeled vehicle, our patented sensor technologies will help to deliver:


Extended tyre life
With fewer wheel interventions
Increased safety & duty of care
Already proven on thousands of vehicles, including many major national fleets, Wheely-Safe provides an early warning system to notify you and your drivers immediately to:



In-motion wheel loss detection
Wheely-Safe was founded as a business to solve the frightening issue of wheel loss from commercial vehicles once and for all; and for assets with our system fitted, it's safe to say that's mission accomplished.
Our sensor technology ensures a driver receives an alert the instant a loosening wheel nut is detected – no matter what speed they are travelling, or in what weather conditions – allowing them to bring the vehicle safely to a halt.
We currently offer Wheely-Safe wheel loss sensors to fit almost every size wheel found on a bus, coach, truck or trailer (PSV / HGV), from 17.5" to 22.5", including those with six, eight and 10-stud fixings. Plus, our range is expanding all the time.
Unrivalled fleet protection
Our detection system is unlike anything else on the market and is revolutionising how the commercial vehicle industry protects itself against the dangers of wheel loss, whether due to human or mechanical error.
And unlike brightly coloured indicator tags already on the market, which can only highlight potential wheel loss situations on stationary vehicles, Wheely-Safe provides proactive alerts to loosening wheel nuts as the vehicle is in motion.
REQUEST A DEMO


Brake & hub temperature monitoring
When designing our wheel loss sensors, their position next to the brakes and hub made them perfectly placed for monitoring temperatures too, so we added this functionality as standard.
It means any Wheely-Safe customer specifying our wheel loss system will also receive warnings for brake and hub overheating – protecting their fleets from one of the most common causes of commercial vehicle fires. Plus, the system can be used to detect brakes which aren't functioning on individual wheels, by monitoring temperature fluctuations during a journey.


Tyre pressure monitoring system (TPMS)
All tyres will naturally leak air over time, but with Wheely-Safe maintaining a constant eye on your pressures, keeping your tyres inflated to the correct level has never been simpler. You'll receive a proactive maintenance alert when a tyre needs topping up with air – helping you to maximise fuel efficiency, optimise tyre life and increase road safety.
After all, nearly one third of roadside breakdowns are due to tyre incidents, and research shows that 90% of those are pressure related. Becoming part of that statistic is easily avoidable using our smart technology to keep your pressures in check.
Reduce fuel, tyre and running costs
Put simply, with our advanced TPMS installed across your fleet, you can't help but operate your fleet more efficiently – extending tyre life and enhancing fuel efficiency. That's great for your bottom line, but it also helps to all but eliminate tyre-related downtime, and the associated costs and business disruption such instances bring. Plus it's great for your fleet sustainability goals too.
REQUEST A DEMO
Introducing our accessories
Select from a range of accessories to complement your Wheely-Safe system, including: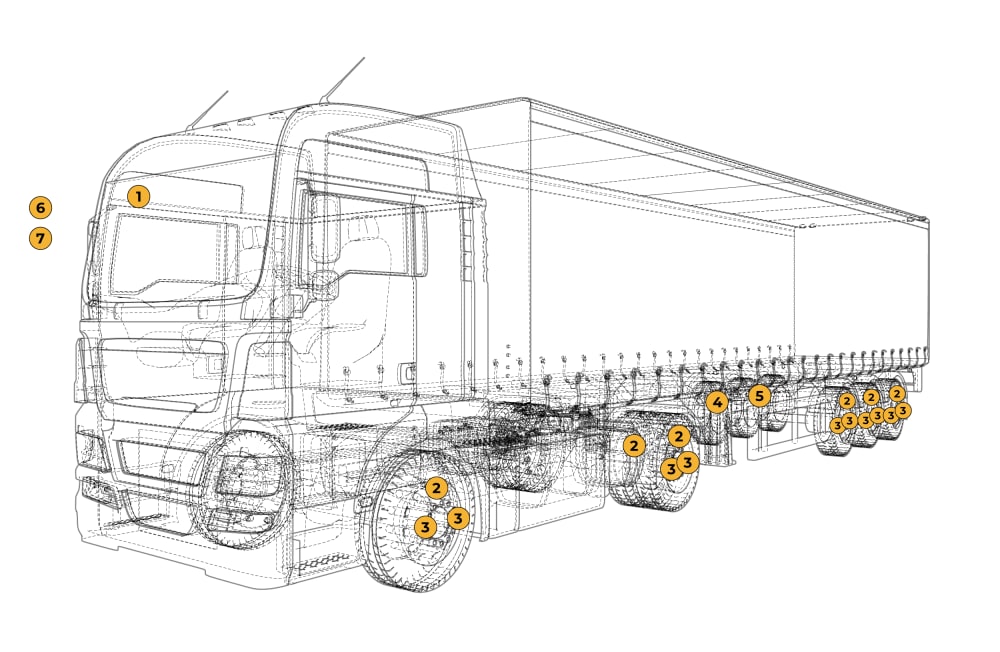 SAVE MONEY. SAVE TIME. MAXIMISE SAFETY.
Wheely-Safe can boost your fleet efficiency and safety overnight. Request a demo from our team today.
REQUEST A DEMO

Company Registration No. 12754234