WHEELY-SAFE AGREES NEW ROAD SAFETY PLEDGE WITH BRAKE
Published Wednesday, 15th April 2020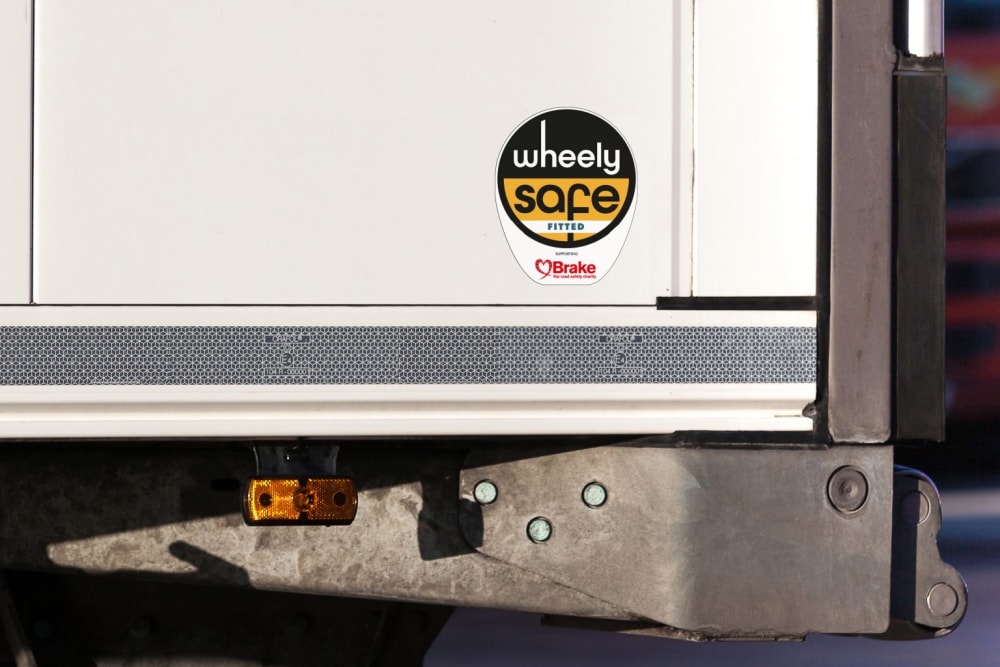 Wheely-Safe is reinforcing its commitment to road safety through a new initiative with industry charity, Brake.
The company has pledged to make a cash donation for every van, bus, coach or truck which displays a 'Wheely-Safe fitted' vinyl graphic, highlighting its protection using the firm's latest generation tyre and wheel safety technology.

Wheely-Safe will gift £5 for every light commercial vehicle (LCV) and £10 for every heavy goods vehicle (HGV) or public service vehicle (PSV) carrying the sticker, which it will supply with all new systems.

Steve Jackson, Managing Director of Wheely-Safe, says: "A customer asked us about supplying a vinyl for their vehicles after we'd finished an installation. We loved the idea, but we decided to link it with a commitment to a charitable donation.

"We'll print as many of the vinyl graphics as we sell kits for the next 12 months, and we hope to raise as much money for Brake as possible."

Wheely-Safe offers a complete range of next-generation wheel and tyre safety technologies designed to protect fleets against the risk and financial cost of wheel loss, brake and hub overheating, and tyre under-inflation.

Joshua Harris, Director of Campaigns at Brake, says: "This is a fantastic initiative from Wheely-Safe, promoting the importance of tyre safety while helping Brake support crash victims and campaign for safer roads. Properly maintained vehicles are absolutely vital for safe roads so we're delighted to be working with Wheely-Safe who are pioneers in tyre safety."

Wheely-Safe's technology is fully customisable, allowing operators to pick the right level of protection for their fleet. Firms can opt for a robust and easy-to-fit tyre pressure monitoring system (TPMS), or upgrade for complete peace of mind with a patented wheel security device, which includes brake and hub temperature monitoring. Systems can be supplied as standalone kits, or fully telematics-ready versions.

Last year saw Wheely-Safe win four major industry titles, including Transport Technology of the Year at the National Technology Awards, the Fleet Safety Product (in-vehicle) category at the Brake Fleet Safety Awards 2019, Product Innovation of the Year at the National Tyre Distributors Association Awards 2019 and the Most Innovative Product of the Year at the FTA Logistics Awards 2019.

ends

Wheely-Safe Ltd is a technology start-up founded in 2010 by two lifelong friends – Gary Thomas, a Director of his own transport compliance consultancy, and Gary Broadfield, a Director of Technology and serial inventor for a large Japanese electronics manufacturer. Together they brought the marriage of skills required to help solve wheel loss issues in the automotive sector, and to tackle the huge number of vehicles driving every day on under-inflated tyres. The early years of Wheely-Safe concentrated on attaining worldwide patent protection and technology small enough to fit near the wheels of all vehicle types, from cars and vans to trucks and trailers – with its first products launched into the market during 2018. www.wheely-safe.com

For further press information please contact:

Dan Jones or James Keeler at Garnett Keeler PR on 020 8647 4467 or by email to dan.jones@garnettkeeler.com / james.keeler@garnettkeeler.com

To access Wheely-Safe's online newsroom please visit https://www.gk.news/wheelysafe

SAVE MONEY. SAVE TIME. MAXIMISE SAFETY.
Wheely-Safe can boost your fleet efficiency and safety overnight. Request a demo from our team today.
REQUEST A DEMO

Company Registration No. 12754234