Published Wednesday, 2nd March 2022
Five tough questions to ask your truck TPMS supplier…
Author: Andy Congrave
There are a wealth of tyre pressure monitoring systems (TPMS) on the market, but not all TPMS' were created equal and some may lack the key features or functionality you require for your fleet.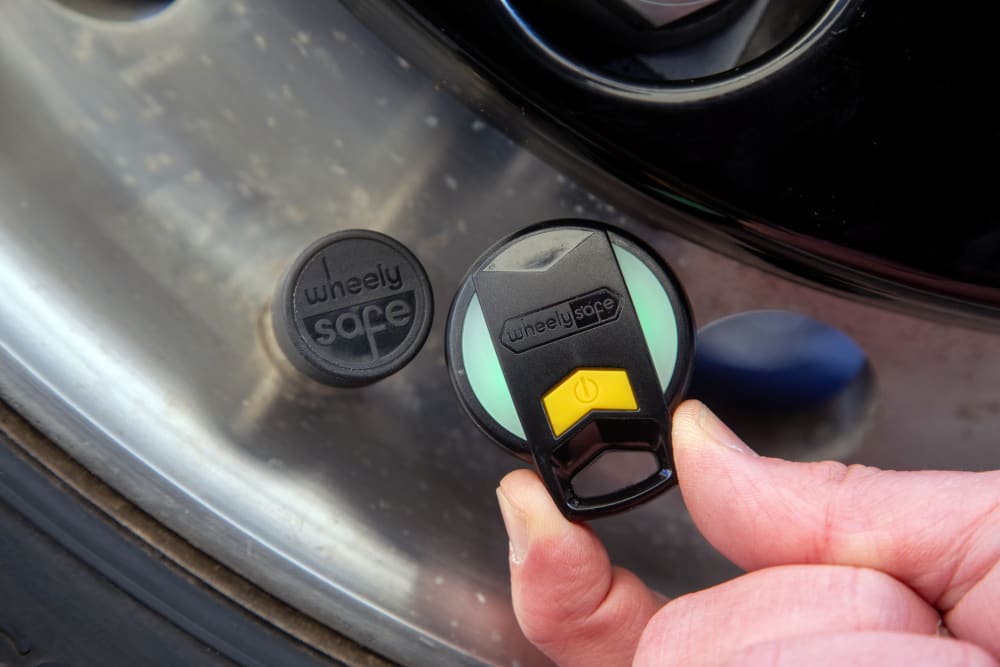 At Wheely-Safe, we believe your investment in a truck TPMS should effectively become self-funding. Yes, there's an initial investment required to roll-out the kit across your operation, and it's important to ensure that includes not just your rigid trucks and tractor units, but your trailers too.
However, once installed, by helping you to maintain your truck tyres in the best possible condition – you will start to all but eradicate tyre underinflation, leading to improved fuel efficiency and longer tyre life.
Given the spiralling cost of both fuel and truck tyres, this means the potential for substantial savings on two of your most significant vehicle operating costs.
To support you in making the right decision for your business, here are a handful of useful questions to ask any truck TPMS provider, before you decide upon the right solution for your haulage or own-account fleet.
1. How easy is your truck TPMS to fit?
No two truck or lorry TPMS kits are the same, and some are more 'involved' when it comes to installation.
From the outset we've devised the Wheely-Safe TPMS to be easy to install. For the simplest possible solution, pick our external truck TPMS sensors and solar-powered in-cab receiver for a completely wire-free set-up. For longer vehicles, we even offer a five-year battery-powered booster which can be mounted underneath the trailer chassis to boost the signal from the rearmost TPMS sensors. This means the whole system can be installed in a matter of minutes, without any need to visit a commercial vehicle workshop.
We also offer internal TPMS sensors, mounted on the wheel rim, and wired in-cab receivers and wired signal boosters – if you prefer. Even these are designed to be easy to fit, and come with full instruction kits, including PDF-based guides and supporting how-to videos.
2. Are your TPMS sensors fully-sealed?
TPMS sensors which screw onto the valve stem are going to be operating over many thousands of miles in an environment which is exposed to the elements at every stage.
For this reason, we would strongly advise against selecting a TPMS sensor that isn't fully-sealed. Some manufacturers prioritise the ability to replace the battery, but in our opinion this leaves the sensor vulnerable to contamination. In this environment, you want maximum reliability and confidence in the tyre pressure readings you are receiving, and we would favour single-use sensors with long-life batteries, over sensors which by their very nature of being able to be opened, are naturally more prone to the likes of water or dirt ingress, or corrosion by salt.
Our external truck TPMS sensors are designed to offer a three to five-year battery life, depending on usage, and can easily be replaced in seconds at the end of their life in service.
3. Do your truck TPMS sensors auto-pair?
When you select a truck tyre TPMS, look for a system which is easy to install and easy to maintain.
No one wants to be wasting precious time programming sensors, particularly when you might be rolling out a TPMS solution across multiple trucks and trailers.
With Wheely-Safe, both our TPMS and wheel loss sensors auto pair without the need for any programming. Once installed, the vehicle should be taken on a 10-minute drive to confirm that the auto pairing process has completed, and then you're ready to go.
4. How does your in-cab receiver pair with the TPMS sensors on trailers?
"Automatically" is the answer you're looking for here! With most artic fleets seeing tractor units operating with multiple different trailers, often several over a period of just 24 hours, you need a TPMS which can instantly detect the sensors on any trailer being towed. Don't accept a solution where drivers must programme the in-cab receiver to detect the sensors at the start of a new journey.
With Wheely-Safe, both our solar or wired in-cab receiver will automatically detect the TPMS sensors on the tractor unit and trailer at the start of the journey – making it not just a cost-effective truck tyre TPMS, but a user-friendly one too.
So long as a business has the Wheely-Safe TPMS rolled out across its fleet, any tractor unit can operate with any trailer, and you can rest assured that the tyre pressures will be constantly monitored and the driver alerted to any issues.
5. Can your truck TPMS connect to my telematics?
There are huge benefits to connecting your truck TPMS to your on-board telematics system, so look for a solution affording you this level of compatibility. Why? Because a fully connected truck TPMS allows you to route certain notifications direct to your workshop team.
For example, 'amber' maintenance alerts, such as notifications for truck tyres requiring a slight top-up with air, can be delivered directly to the workshop team, warning them in advance that a particular vehicle needs some pressure adjustments when it is next back at base. This enables them to plan ahead, without interrupting the driver or their schedule.
Being hooked up to the telematics system of your choice also means 'red' alerts for critical issues can be shared with the fleet or transport team, letting them know a driver is dealing with a critical issue and allowing them to proactively contact the driver to offer advice and support.
The latest generation Wheely-Safe TPMS is telematics-ready, and we offer a range of different solutions for connecting both truck and trailer to the vehicle's own on-board telematics solution.
Find the perfect truck tyre TPMS for your fleet.
SAVE MONEY. SAVE TIME. MAXIMISE SAFETY.
Wheely-Safe can boost your fleet efficiency and safety overnight. Request a demo from our team today.
REQUEST A DEMO

Company Registration No. 12754234