Published Wednesday, 25th January 2023
Can loose wheel nut indicators give truck fleets a false sense of security?
Author: Andy Congrave
Independent repair specialist Ace Fleet Maintenance, which operates across Bedfordshire, Buckinghamshire, Hertfordshire and Cambridge, has posted a video on TikTok showing what it found after being called out to a report of loose wheels on a tanker.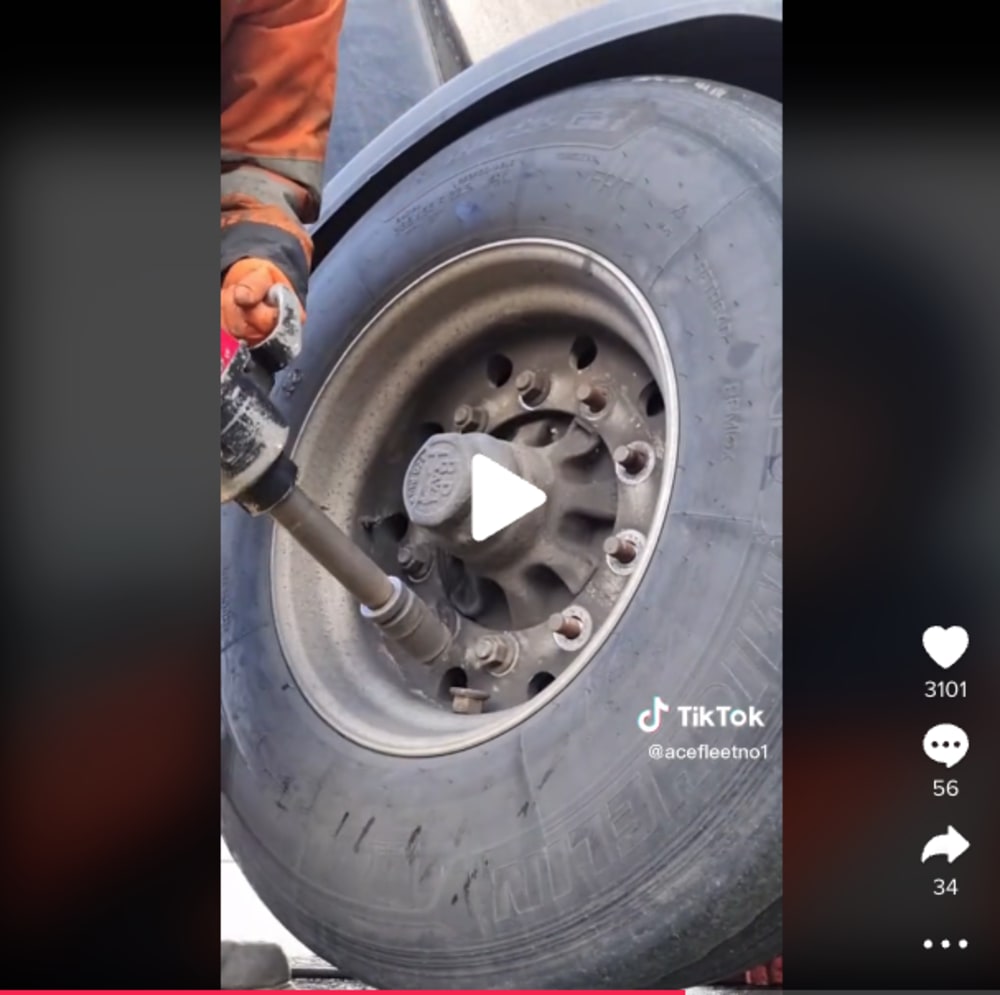 The HGV technician filming the call-out discovered the wheel was fitted with the bright yellow loose wheel nut indicators favoured by many haulage firms and bus fleets, and yet despite the indicators still lining up, several of the wheel nuts were found to be loose.

Speaking in the video, which has already been viewed more than 137,000 times on the social media platform, the technician said: "It's got wheel nut indicators on. Look at these two, they are loose but still in line – it's quite a common thing to see."
He goes on to remove the wheel nut indicators from the affected wheel, saying: "Let's pull these off, because obviously they're a waste of time. No one looks at these anymore."
Upon taking off the wheel to inspect the hub for damage, he finds the studs are heavily worn and in need of replacement before the wheel can be refitted and the tanker returned safety to the road.
But where does this example leave fleets which rely on wheel nut indicators to help drivers spot potential wheel security hazards during their daily walkaround inspections?
Wheel nut indicator tags are popular across bus, coach, truck and trailer fleets, but as this video shows, they can't be completely relied upon.
Loose wheel nut indicators are marketed to all sizes of commercial vehicle fleets as providing an instant visual indicator of nut movement, whilst some can also indicate possible faults with brakes or bearings through melting. Manufacturers of these products say they support fleet safety checks – particularly a driver's daily walkaround vehicle inspections – and claim they help fleet operators to ensure roadworthiness and safe operation of HGV and PSV fleets too.
Standard indicator tags have always had the flaw that they can only detect potential wheel loss situations on stationary vehicles; but wheels don't detach when a truck or trailer is parked. Plus, as this incident shows, they can't always be relied upon to highlight loosening wheel nuts when a vehicle is stationary, either.
Had this truck been fitted with the Wheely-Safe system, which sees the installation of the our patented wheel loss sensors straddling two wheel nuts using a specially designed bracket – with a pair fitted to each wheel – then the driver would have received an alert in the cab at the first sign of the wheel beginning to loosen.
These alerts are delivered to the driver no matter what speed they are travelling, or in what weather conditions – allowing them to pull over safely and seek assistance before the risk of the truck or trailer losing a wheel escalates further.
It gives transport managers, fleet engineers and drivers the peace of mind that nothing's being left to chance as part of their ongoing vehicle maintenance regime. Our wheel loss sensors don't perform one inspection at the start of the day and then presume the wheels are safely secured for the rest of the shift; they are constantly checking and provide an immediate alert if a wheel nut begins to loosen.
Thankfully in this instance the loose wheel nuts were spotted before detachment occurred, but not before the vehicle had been out on the public road with the wheel nuts steadily loosening.
It wouldn't have taken much for the outcome to be very different and resulted in an actual wheel loss. You only need to look on YouTube to see these incidents are fairly common, and given the rise in dash cams, they are increasingly being captured and making headline news around the world.
Fleets protecting themselves against potential wheel loss situations with Wheely-Safe can select between a wheel security-only system, or opt to fit our full kit, which combines the world's first in-motion wheel loss detection system with advanced brake/hub temperature monitoring and an intelligent Tyre Pressure Monitoring System (TPMS). Adding the TPMS element brings a whole added level of tyre safety, with the system keeping a constant check on tyre pressures and providing alerts when a top up is required, or should fast leakage be detected.
We offer kits to suit the majority of commercial vehicle configurations, including 4x2 rigids, 4x4 rigids, 6x2 rigids, 6x4 rigids, 6x6 rigids, 8x2 rigids and 8x4 rigids. Wheely-Safe also has systems for tractor units and trailers, including 4x2 tractor units, 6x2 pusher and 6x2 tag axle tractor units, plus 6x4 double-drive tractor units. Trailers can also be accommodated in almost any specification, with tandem axle, tri-axle and tri-axle twin trailers the most popular – running on a variety of different wheel sizes.
So my advice would be; if your commercial vehicle fleet is still relying on loose wheel nut indicators to protect against wheel loss, then please use the contact form at the bottom of this page to request a product demonstration of our system. It really doesn't matter what type or size of commercial vehicle fleet you operate, be it trucks, trailers, buses, coaches etc – we have solutions for all.
Since being launched, Wheely-Safe's wheel security and TPMS kits have won multiple industry awards, including Gold in the Euro Bus Expo Innovation Challenge 2022. We have also won a mix of transport technology, fleet safety and innovation awards across the National Technology Awards, BRAKE Fleet Safety Awards, National Tyre Distributors Association (NTDA) Awards and the FTA Logistics Awards, now known as the Logistics UK Awards.
In August 2022 our sensor technology was named as a DVSA Recognised Product, and in December 2022 we were selected to be an official delivery partner of Driving for Better Business. Two important recognitions for our suite of wheel security and TPMS solutions.
SAVE MONEY. SAVE TIME. MAXIMISE SAFETY.
Wheely-Safe can boost your fleet efficiency and safety overnight. Request a demo from our team today.
REQUEST A DEMO

Company Registration No. 12754234