Published Friday, 21st April 2023
"Blowouts are not fun"
No professional transport fleet has time for tyre-related downtime, particularly when in so many cases it is avoidable. Take this example recently uploaded to TikTok, and to quote the driver, "blowouts are not fun" – no matter what vehicle you're driving.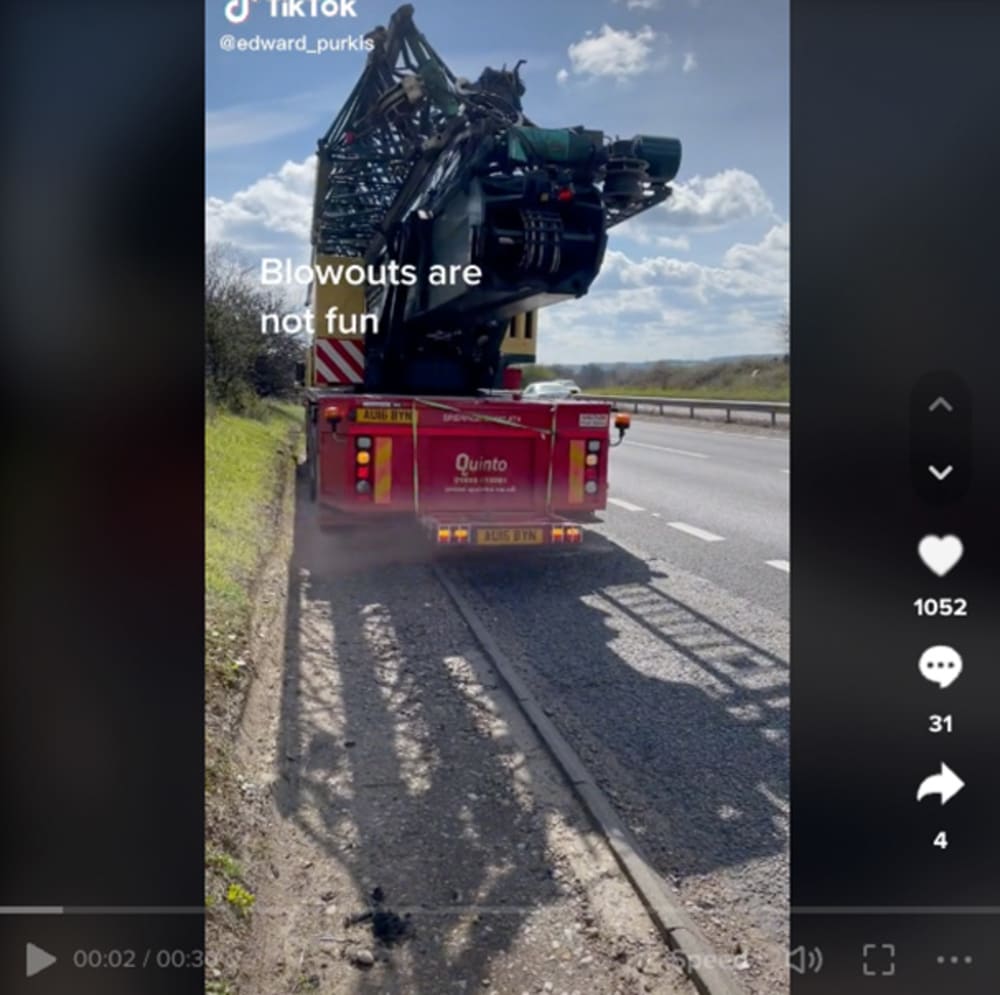 This example shows a mobile crane stranded at the roadside, but our tyre pressure monitoring system is suitable for pretty much every kind of wheeled vehicle on the road, whether it's a car, 4x4, van, bus, coach, rigid truck or tractor unit and trailer.
And it's designed to help prevent downtime such as this from ever occurring. How? Well, put simply, with a Wheely-Safe tyre pressure monitoring system fitted to your vehicle, you benefit from a wealth of protection to help identify potential tyre issues at the earliest opportunity.
Our patented sensor technology doesn't just monitor tyre pressures, it makes it easy to check all tyre pressures during your daily walkaround vehicle inspections – far more effective that simply kicking tyres or attempting to assess pressures visually!
If, for example, you run a fleet of trucks, your drivers can simply hold the pressure checker up to the sensor which screws onto the valve cap on your truck tyre, and you'll get an instant tyre pressure reading. With a truck tyre valve extension kit, you can even check the tyre pressure of the inner twin just as simply. And it works just the same, no matter what type of fleet you operate.
But that's just the first level of protection. Our intelligent tyre pressure monitoring system will keep a constant check on your truck's tyre pressures, which means it's never been simpler to keep your tyre inflated to the correct pressures.
Our tyre pressure monitoring system will deliver a red 'critical' alert to warn if any truck tyre drops in pressure by 25% or more, and also in the event fast leakage is detected. These instant notifications mean the truck driver can pull over swiftly and check the tyre – often saving the casing before it becomes unrepairable.
The tyre pressure monitoring system also monitors tyre pressures while the vehicle is parked up overnight. An amber 'maintenance' alert indicates a tyre has deflated between 15% and 25%, a red 'critical' alert indicates a tyre has deflated below 25%. This allows a driver to respond to an issue before starting their journey.
Monitoring tyre pressures brings multiple benefits, helping you to maximise fuel efficiency, extend truck tyre life and bolster road safety across your commercial vehicle fleet.
There's also a second type of red 'critical' alert, which warns the truck driver if the temperature inside any monitored tyre exceeds 100°C – often the sign of an impending truck tyre blowout. It's just another example of how a Wheely-Safe intelligent tyre pressure monitoring system – or TPMS for short – looks after you on the road, by helping to ensure you are operating on the safest possible tyres at all times.
Our light vehicle TPMS sensors for cars, SUVs, vans and minibuses, can monitor tyre pressures up to 87 psi. Larger commercial vehicles can fit our heavy vehicle TPMS sensors, which are suitable for inflation pressures of up to 188 psi. This makes them the ideal choice for a bus, coach, truck or trailer.
And remember, TPMS is just part of our vehicle safety solution. You can fit our TPMS in isolation, or for heavy vehicles combine it with our multi-award winning sensors which monitor for loosening wheel nuts and abnormal temperatures around the hub and brakes.
Click here to view the full solution on offer, which is a recognised product by both the DVSA and Driving for Better Business.
SAVE MONEY. SAVE TIME. MAXIMISE SAFETY.
Wheely-Safe can boost your fleet efficiency and safety overnight. Request a demo from our team today.
REQUEST A DEMO

Company Registration No. 12754234